Meet the Clerk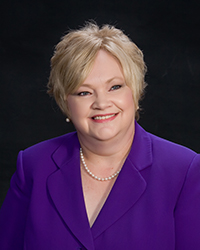 Kathy D. Page
Kathy D. Page serves as the Clerk of Superior and Juvenile Courts in Dade County. Kathy also serves as the Jury Clerk and the Appeals Administrator to the Board of Equalization. Kathy was elected in 2004 and taking office January 1, 2005. She began her career working in the clerk's office in 1993 as a deputy clerk and later promoted to Chief Deputy Clerk. She is a lifelong resident of Dade County and a graduate of Dade County High School and attended Edmondson Jr. Business College and later attending Northwestern Technical College.
Since being elected, all accounting records have been computerized. A Case Computerization Name Index for all civil and criminal records has been completed back to the 1920's. Real Estate and plats are being imaged and indexed. We will continue to scan, image, and computerize all deeds and plats until all records are archived. We also just completed computerizing all adoption and Military Discharge records. Civil cases and child support cases are now mandatory eFiled. We are now eFiling real estate documents.
She also implemented the Jury Information Line in 2006. This has been a tremendous savings for our taxpayers.
Kathy has had the opportunity to serve in the Clerk's Association:
2006-2007 District Chairperson for the 14th Judicial Circuit
2008-2009 District Chairperson for the 14th Judicial Circuit
2007 and 2009 Elected as the District Clerk of the Year
In 2007 Kathy received a Commendation from Governor Sonny Perdue.
She also serves on the Alternative Dispute Resolution Board for the 7th District.
In 2007 Kathy was honored to be awarded the Liberty Bell Award by the Lookout Mountain Bar Association.
Kathy is married to Timothy Page and together they are the proud parents of three children, Josh, Heather, and Ashley. They also are the very proud grandparents to eight grandchildren, Tre`, Troy, Eli, Alec, Joshua, Liam, Jake, and Livia`. Kathy is also a member of the Trenton-Dade Optimist Club.
Office Information